3,4-ethylenedioxythiophene is colorless or light yellow liquid, melting point: -19.34 ° C, boiling point: 193 ° C (EDOT) Molecular formula CeHeCbS, molecular weight 142.18, 3,4-Ethylenedioxythiophene can be used as synthetic polythiophene or oligothiophene organic active materials such as organic conductive macromolecules, optoelectronic materials, etc. The One of the most typical representatives is poly (3,4-ethylenedioxythiophene). Is a German Bayer found a conductive polymer monomer, this product is stable performance of the conductive compound monomer, but also the basic material of conductive skeleton.

EDOT mainly used for synthetic conductive polymer PEDOT, widely used in modern electronics industry.
In the synthesis of gold nanoparticles as a reducing agent; palladium-catalyzed aromatic reaction of the starting material; for the synthesis of coupling polymers and copolymers for the synthesis of conductive polymer PEDOT.


English Name: 3,4-ethylenedioxythiophene
Molecular Formula: C6H6O2S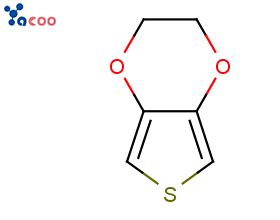 Molecular Wt: 142.18
CAS: 126213-50-1
Shelf life:one year
| | |
| --- | --- |
| SPECIFICATION PROPERTIES | STANDARD |
| Appearance | Colorless or light yellow liquid |
| Assay,% | ≥99.5 |
| Water content,% | ≤0.5 |
| Pb,ppm | ≤100 |
| Hg,ppm | ≤5 |
| Cd,ppm | ≤5 |
| Cr,ppm | ≤5 |
Storage:2-8℃, keep in dark place